FOR TODAY
. . . July 13, 2015
(I'm shaking things up a bit and shifting my daybook to Mondays. Don't panic! You did not lose a day this week.)
Outside my window . . . it's 86 degrees and sunny. We are expecting more thunderstorms today and very high weed pollen. It feels more like August than July!

I am thinking . . . that I need to learn my own symptoms of impending sinus infections. Apparently I've had this one for quite awhile and just hadn't figured it out!
I am thankful . . . for meds and rest and help from the boys around the house. I'm also grateful that I've been kinder to myself about being sick this time around. It's been a long time since I was sick (BLESSING!) and I've done well being nice to myself.

In the kitchen . . . last night was another freezer meal from Pampered Chef. Garlic Parmesan Chicken. The general consensus was 3/5. I like this concept of having a bag in the freezer to just dump in the crock pot, but I need to do some tweaking for my own preferences.

I am creating . . . continuing with the summer shawl. Adding some colors to it now and thinking about the edging I'm going to use. I'm thinking about starting to do more prayer shawls and rosaries for giving away and selling.
I am going . . . to spend some time with my bestie today. We haven't seen each other in 2 weeks which feels like a long time as we usually see each other once a week.
I am wondering . . . how long the symptoms of this sinus infection will linger.

I am reading . . . The Blood Doctor by Barbara Vine (Ruth Rendell). This is another stand alone by Rendell writing as Vine.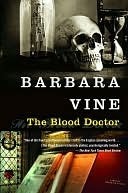 And I'm listening to Gallowglass also by Vine. I'm trying audio books again while I'm crocheting to cut back on Netflix binging!
I am hearing
. . . my ds chatting about his plans. Squeaker wandering about, and the sound of apples crunching as I eat my yogurt with blueberries, apples, and granola.
Around the house
. . . everyone seems to have projects going, so there are boxes and supplies in every room. It's nice that people are doing the things they enjoy!
I am praying . . . for my experience at the retreat this week. For my dd and me to get over this sinus infection. For dh as he continues his training and working his regular job. And for ds to enjoy the remainder of his last summer vacation in college.

One of my favorite things . . . my standard summer breakfast: a cup of whatever fruit I have one hand (blueberries are my favorite!), 1/2 cup of Greek yogurt (today's is Greek God's Honey Vanilla), and 1/3 cup of organic granola. Yummy!
A few plans for the rest of the week . . . fun with my bestie today. The retreat tonight, tomorrow, and Wednesday. Possibly a trip to The Bluebird Cafe on Wednesday night. Counseling on Thursday, and then Friday and Saturday are clear right now. Sunday night we have small group where I will be sharing about the last retreat I attended.
Here's a picture for thought I am sharing . . .