I love to read! That being said, I'm not very good at writing reviews. I get bogged down in the minutiae, and I don't want to enforce my opinions on anyone else. However, I do love to know what other people are reading, so I'm figuring there are other like-minded people out there. Here's a list with a few comments on the last 5 books I've read.
1. Tiny Little Thing by Beatriz Williams
". . . the vodka, I've found, is a reliable refrigerant . . . "
This mashup of Mad Men and the Kennedys makes for a decent summer read. It doesn't require much from the reader. The characters, while familiar, do bring some interesting twists and turns. Tiny is at times likeable, although I wouldn't want to be her best friend.
"But good looks are not just a matter of fine, regular features, copious hair, large eyes, and a supple figure, all of which they had, but of how a woman holds herself, turns her head, smiles, her consciousness of her appearance, and the air of beauty she carries with her."
Ruth Rendell was one of the grand dames of psychological mystery and crime fiction. She is perhaps best known for her Inspector Wexford series, but I have always been partial to pseudonymous Barbara Vine novels. Since her death this past May, I've been reading through those. The Minotaur was a real find. Set in England, but with a Swedish heroine. In typical Vine/Rendell fashion the story twists and turns like the labyrinth slowing drawing the reader closer to the minotaur. I particularly enjoyed the Swedish take on British culture.
"People don't exist in just the light or the dark. They exist in the contrast. In the shadows where the two overlap."
Young adult literature and Kindle publishing are a perfect pair in some ways. I ran across this book on some random list of free Kindle books and decided to give it a try. Although somewhat formulaic, there is an interesting premise. Bryn Reyes, the Girl, suffers from a little-known ailment called Klein-Levin Syndrome which causes its sufferers to sleep for extended periods of time. Bryn's is different though as she dreams her way through each episode as if in an alternate universe. Interesting read, although are teenagers really like this nowadays? Being YA lit and part #1, be prepared for an abrupt ending!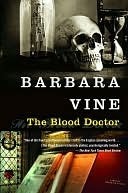 "Someone -- was it T. S. Eliot? -- said that human beings can't stand too much reality."
This one had everything I love in a psychological mystery -- good characters with depth, history, flashbacks, and a medical mystery as well! A good, solid story that grew on me as I read.
The first in the Inspector Wexford series, I felt compelled to read it as a Ruth Rendell aficionado. As I suspected, I'm really more of a Barbara Vine fan. I'll probably read a few more Wexfords to give him a fair chance, but I don't even remember much about the story and didn't make any notes in my reading journal (never a good sign!).
So there you go. The last 5 books I've read. The most interesting thing to me is how quickly I've read them. All 5 in July! I've almost finished another one this week. Of course, I've been battling asthma for 5 weeks so that makes for lots of reading time.